Indus Center for Startups, Incubation & Innovation (ICSII)
Innovation Knows No Boundaries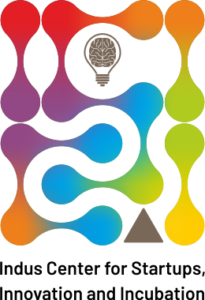 Innovation knows no boundaries or discipline. The world is incomplete without innovation. The new National Education Policy (NEP) which marks a shift from the 'burden of school bag' to 'experiential learning' with focus on making 'job creators' instead of 'job seekers' in line with the aspirations of Indian youth in the 21st century.
ICSII is Indus University's flagship center with a vision and mission to convert university students into innovators and entrepreneurs. In order to mold the students to the expectations of the industries, government and society at large and also to create the innovation and incubation culture (ecosystem) among the students within the University, Indus University (IU) has established Indus Center for Startups, Incubation and Innovation (ICSII)
To be a centre for excellence to foster synergy between academia, research and industry catering to the young minds at the University thereby translating their ideas to innovations or startups for positively impacting society and the nation at large.
To inculcate a culture of innovation among the students in the University.
To build a vibrant startup ecosystem (Innovation and Pre-incubation), by establishing a network between academia, financial institutions, industries, and other institutes.
To provide a platform (mentoring, networks, financial assistance) for speedy implementation of the ideas (developed among the students) into reality.
To provide general platform and awareness for IPR (patent, trademark, copyright filing).
To provide awareness among the students for business model and entrepreneurship startups.
Space: 2000+ Square Feet        
Facilities: 
• Well Equipped Laboratory
• Co-Working Space
• Separate Tinkering Lab with eyantra toolkit
Funding:
• SSIP funds from May 2019 (20 Lacs Per Year with 50% contribution from Indus University)
• GUJCOST Through Student Project under Robotics Competition
• AICTE funding under ATAL Innovation Mission (In Process)
Indus Center for Startups, Incubation & Innovation (ICSII)